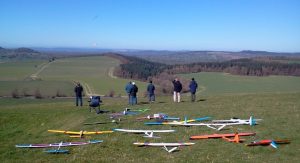 The Wessex Soaring Association has some fabulous slope sites for many different wind directions. Gliding aside, the views alone over the Cranborne Chase AONB are simply stunning!
We fly all types of slope soarer from foam flying wings to large scale, and most things in between.
E-soarers are now permitted on our slopes, although there are strict restrictions on motor use. Landing areas are, for the most part, very large and grassy – although we've still been known to miss them from time to time!
We hold a monthly slope fly-in, usually on the first Saturday or Sunday of the month. Obviously this is wind-dependent so sometimes has to be rescheduled. Please contact Pete Carpenter (details on contact page) for details.
Below are some photos from those meets:
Large-scale glider enthusiast Chris Williams has made some great videos of his planes on our slopes. The links below should take you there;  
http://www.youtube.com/watch?v=xMrQ5q5fgFo
http://www.youtube.com/watch?v=xNpQKHAG_bQ
Here are some more pictures taken by Chris on our slopes.