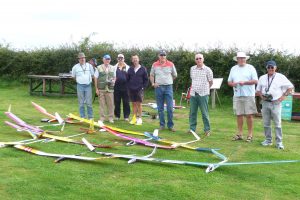 Wessex Soaring Association is running a series of competitions for e-soarers during the season. The intention is that they should be fun, and not taken too seriously! The idea is that ALL sizes and types (except "hotliners") of thermal e-soarers can take part.
These are all planned to take place at our excellent flat field site.
Below are some of the planes used; we run two classes through the year – up to 2.3m span and up to 4m span.