For 40 years the Wessex Soaring Association has 
remained one of the few organisations dedicated entirely to the building and flying of radio-controlled model gliders and sailplanes.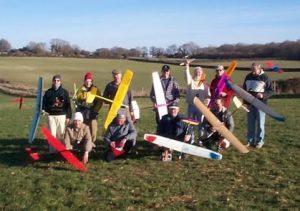 Formed by a small group of modellers based mainly in Dorset , the club was originally established solely for the pursuit of silent (i.e.non-powered) radio controlled model flying.
Exclusive, private access to a comprehensive range of slope sites located on the Dorset/Wiltshire border was negotiated with local landowners, along with the use of a selection of flat field sites in the Wimborne area.
Wessex Soaring Association started with a handful of members, but over the years this has grown to the current level of around 50. Membership is drawn from a large  area and the variety of models flown is as wide as the levels of ability and experience amongst the membership.
From the novice and occasional flyers to prolific scale glider enthusiasts, national competitors in F3J and F3F; the Wessex Soaring Association  offers a depth of experience and enthusiasm to prospective members whatever their level of skill or commitment.
2008 saw the introduction of electric-launched sailplanes (e-soarers) to the WSA constitution. A site has been established and member interest rapidly grew, with motor launch now being the most popular choice for the flat field flyers.
More recently, the use of electric motor power on the slopes has been introduced and welcomed, although motor use is strictly restricted to saving a land-out and also as a launch aid if necessary.   
Gliding and soaring will always be at the core of the Wessex Soaring Association.
In 2010 it was voted that the club should affiliate with the BMFA.